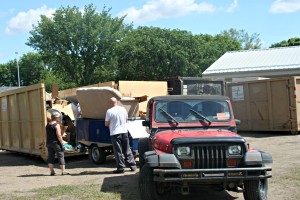 Every spring/early summer, the Montrose Community League hosts Dumpster Day. This is similar to the City's Big Bin events that are held throughout Edmonton, but this is put on solely by the Montrose Community League for Montrose Community League members. Memberships are available to purchase at the event (cash only).
If you have anything that is too large for back lane/curbside pickup, or just haven't had time to take them to an Eco Station or the City dump, you can bring it down to the Montrose hall to get rid of those items.
There are some limits to what we can and cannot accept:
CAN ACCEPT:
Furniture
Electronics
Car batteries
Wood
Appliances
Junk & more
CAN'T ACCEPT
Automotive: oils, antifreeze, gas/diesel, fluids, rust remover
Chemicals & cleaners: bleach, drain cleaner, oven cleaner, etc.
Paints & stains
Aerosol cans
Fire extinguishers
Propane tanks
Needles & syringes
Keep an eye out on our Facebook page for specific details on when it is happening. Restrictions on what you can drop off may vary year to year.